Natasha Porter and her friend Rebecca run the Richmond Spring 10k
"Very pleased to say that one and a half years after getting GBS I have just completed a 10k run and have managed to raise £555 (so far!) for GAIN. It's taken a lot of work and my feet are buzzing like crazy I'm so happy. Thanks for everyone's support" said Natasha.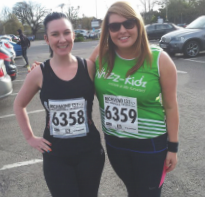 Nathan Higgins does 160′ Bungee jump
Ashleigh, Nathan's partner, was diagnosed with GBS when she was 17 and after spending 4-5 months in hospital, was able to go home just before her 18th birthday. Even though her whole life had changed Ashleigh was determined that nothing could stop her and nothing would beat her. She made a full recovery, started a new job as a physiotherapist and now treats patients diagnosed with GBS and similar illnesses. 
She sometimes works on the same ward she was on and is glad to help others in the same way that others had helped her. "She's truly inspirational and why I get through every single day- that's why I'm jumping for your charity" said Nathan.
I have a passion for running, I have done many events and when I can, try to raise money for charities that mean something to me or my friends. In August 2012, the father of a good friend of mine was diagnosed with Guillan Barré syndrome which was not something I had come across before, even during my work as a Sonographer within the NHS. After finding out about Neil's dad, I wanted to help and with running being the thing I do best, I asked Neil about GAIN and then signed up for the Silverstone half marathon. On the 2nd March I set off from sunny Kent to Northampton to the Silverstone race track! By the time I arrived the sunshine was long gone, it was overcast and windy with fine rain. I set off around the course for 3 laps and completed the half marathon in 2hours and 15 seconds; not a personal best but I was pleased as the wind was strong (it took away my lucky hat which I have worn in all races!)
People have been so kind with donations that so far, I have managed to raise over £400. Thank you to all at GAIN and all those that have supported me and Neil's family! His dad returned home in July and is doing well having physiotherapy once, maybe twice a week. He can now stand with the aid of equipment and is expected to walk again!
Billie May