Register between 1st March and 24th April to get your pack and be part of GAIN's biggest awareness campaign EVER! 
What's #GAINmomentum all about?
We all know the benefits of exercise, but few of us do enough of it.  #GAINmomentum is all about challenging yourself to get moving, from 1st to 31st May, for GBS/CIDP awareness month. There's no pressure to do 30 minutes cardio or to walk 10,000 steps every day, just set your own personal goals and see what you can achieve. 
Of course, since launching the campaign back in February, events have taken a dramatic and unexpected turn with the coronavirus COVID-19 pandemic, and all over the world, people are having to cancel or postpone events, with casualties including the Olympics, UEFA 2020 and closer to home, the London Marathon, Wimbledon and the Edinburgh Festival to name but a few.
Our plans for celebrating GBS/CIDP awareness month might have changed a bit, but we want you to know that it's still full steam ahead this May!
For as long as we are permitted to exercise responsibly outside once a day, we can go for a walk, run or cycle ride, and even if we're told to stay indoors for exercise, there are still lots of ways to keep active. If you're lucky enough to have a treadmill or rowing machine at home, setting yourself an indoor challenge is fairly straightforward. But as we've seen on the news and across social media channels, all it takes is a bit of imagination, and most of us can find new and fun ways to keep fit and active.
Some of you might already be tuning in to Joe Wicks or the Green Goddess, Diana Moran for a daily workout. There are lots of other things you could try, from doing reps with a couple of bottles of water or tins of beans, to living room circuit training, with push-ups, squats and star-jumps. Even if you're not mobile, you might try seated exercises, stretches and reps, or take part in a virtual 'chairobics' session on YouTube.
Run, walk, cycle, jump, stretch, dance or skip – it's your call.
Because it's GBS/CIDP awareness month, we would like you to raise awareness of the charity and conditions while you're getting active, by telling everyone what you're doing and why. Spread the word via social media, including the hashtag #GAINmomentum, and perhaps ask family and friends to sponsor you to spur you on!
 

How does it work?
Register for #GAINmomentum.
If you live in the UK or Ireland you can register as an individual, or get together with friends, family or colleagues and set yourself an even more ambitious group challenge that you complete as a team. Everyone who registers before 24th April will receive a pack in time for the start of the challenge in May. 

Packs include a SPECIAL EDITION #GAINmomentum T-shirt (not available for general purchase through the shop), awareness wrist band, a guide containing some challenge suggestions and an activity tracker, your 'challenge achieved' card and some information about the charity and conditions. You can also choose either a waterproof mobile phone holder so you can download a fitness app to your phone and keep count of your steps while you're taking your daily exercise outdoors, or a drawstring kit-bag (ideal for your gym kit, swimming stuff or even to keep your sandwiches in once we're all allowed out again!). The registration fee also covers a special #GAINmomentum 2020 medal that you can claim once you have completed your challenge.
Registration costs £10 per adult and £5 per child
Get a group discount of 10% when 10 or more people register together. Use code #gain10 at the checkout to receive your discount* 
Register by 24th April to receive your pack in time for the start of your challenge
*As schools, sports clubs, etc are closed, the part of the campaign  aimed at schools and youth organisations is postponed until next year.
To register individuals and groups of 10 or more (for people within the same household, or 'virtual' groups of friends or colleagues), click here to head into our shop and pay the registration fee. During checkout please complete the order notes (optional) box  to tell us what size T-shirt(s) you require – S, M, L, XL or XXL – and whether you want a kit bag or waterproof mobile phone holder as your free gift.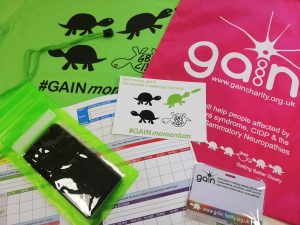 We will send your pack out in April ready for starting your challenge on 1st May.  
2.  Set yourself a personal goal, or even two or three goals. This could be anything from spending half an hour each day working in the garden or doing a video workout or 'chairobics' session, to a virtual challenge like climbing Mount Snowdon one flight of stairs at a time (if you're interested, you need to walk up 548 flights of 13 stairs to reach the top!). Make sure your goals are challenging but realistic, to avoid getting bored or disheartened.
3.  For one month, from 1st to 31st May, count your steps, track your distance or keep a note of how many minutes you're active for, whatever your goal. And don't forget to take a selfie or make a video of you getting active in your #GAINmomentum T-shirt!
4. Email (gainmomentum@gaincharity.org.uk) or Whatsapp (07877 982651) your photos and videos to us so we can upload them to the challenge gallery on the GAIN website. You can also post them on our social media platforms, including the hashtag #GAINmomentum
5. Once you reach the end of your challenge, complete and return your 'challenge achieved' card or email us at gainmomentum@gaincharity.org.uk, and we'll send you a #GAINmomentum 2020 medal!