At 56 my sister was a very busy person. Working as a civil servant, giving 120% to her job and playing a key part in her first grandchild's care, enabling her son and daughter-in-law to be out at work and Karen could spend regular time with young Mary as she was growing up.
Around the middle of February 2017, Karen was feeling a bit under the weather. She had conjunctivitis and felt unwell. Whilst driving on Sunday 12th February she began to experience pain in her hands. Monday 13th February, Karen was looking after Mary for the day but still feeling unwell. She visited the chemist and made an appointment to see the doctor later that week. Karen's partner was able to finish work early enough to help with Mary towards the end of the afternoon.
During the early hours of Tuesday 14th February 2017, Karen was in a lot of pain and became worryingly unwell. As she says her body was telling her something serious was happening. She managed to phone her partner, get downstairs and unlock the front door for him. They were taken, by ambulance, to Royal Preston Hospital. Karen's condition rapidly worsened. Within a few hours she was in the Critical Care Unit, on full life support, where she stayed for over 190 days. Karen was diagnosed with 3 variants of Guillain-Barre syndrome and initially could only communicate with her eyeballs. Her eyelids had to be opened and closed for her.
Whilst in critical care, Karen did regain control of her eyelids and made good use of a selection of aids to enable communications using her eyes. Tiny steps of improvement have been happening since then but she remained in critical care because the strength needed to breath independently took a long time to return.
She became a patient of Rachel Moses (consultant physiotherapist) and Dr Vias and eventually the tracheotomy tube could be removed, and Karen spent about 4 weeks on the respiratory ward until her breathing was strong enough to go to the rehab unit in October 2017.
Karen was in Royal Preston's rehab unit for about 9 months before she moved to Cleveland House. She is an excellent patient and has handled her situation amazingly. She was very well cared for in Royal Preston and had wonderful therapists in the rehab unit.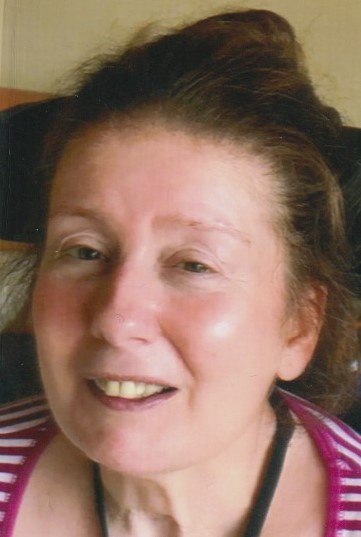 Although understandably fearful, Karen soon settled in at Cleveland House and regards it as another step towards improving her mobility.
Living in the same area practically all your life can sound a little dull but has proven to be very fortunate in this situation. Close family, friends, colleagues, neighbours and hospital staff, who have become friends, are able to visit regularly.
When Karen first became ill we were advised that keeping the patients spirits up was important and that visitors would always be welcome. We had no idea then how long Karen was going to need 24-hour care. It has been a long time but, because of Karen, the care and support remain intact. She has been a pal to staff, patients and their families and through her we've met incredible people. Many people have supported her, but she has supported many people.
We have adjusted our lives to accommodate this unexpected situation in our family and the patient has kept cool and calm throughout it all and made our job easier than we would have thought possible.
Karen receives 24-hour care, including regular, good therapy sessions, at Cleveland House and is well looked after by all the staff. She has never had setbacks and continues to improve in small steps but is still confined to bed unless hoisted by 2 people. Her body is very weak from the neck down.
During the past 24 months we have met a number of Guillain-Barre and CIDP patients and appreciate that the effects and recovery times are very variable, but we haven't met anyone who has been affected for so long and as severely as Karen.
Ann Pennington