Aged 61 and following a life of being in rock bands, a solo performer, success in local and regional politics, running a business and a happy second marriage, this is a fascinating insight into the madness, mayhem, joy and wonder of my musical career which almost stalled because of GBS…
I had long harboured a desire to play guitar and as a child of about five or six, I would watch Lonnie Donegan and Tommy Steele on our old black and white television set. I used to pick up a plastic toy tennis racquet and pretend to strum along. The sense of wanting to play stayed with with me and when I was fourteen, my mother brought me a cheap guitar whilst we were on a family holiday in Italy.
I did what most young aspiring guitarists did in those days, I bought the late, great Bert Weedon's guitar book, "Play In A Day" and the book "500 Chord Shapes" which was all I needed. I had a head overflowing with songs I wanted to play and knowing how they went, I used the chords in those two great books to begin actually playing. That's the only teaching I've ever had apart from observing other players I've met down the years.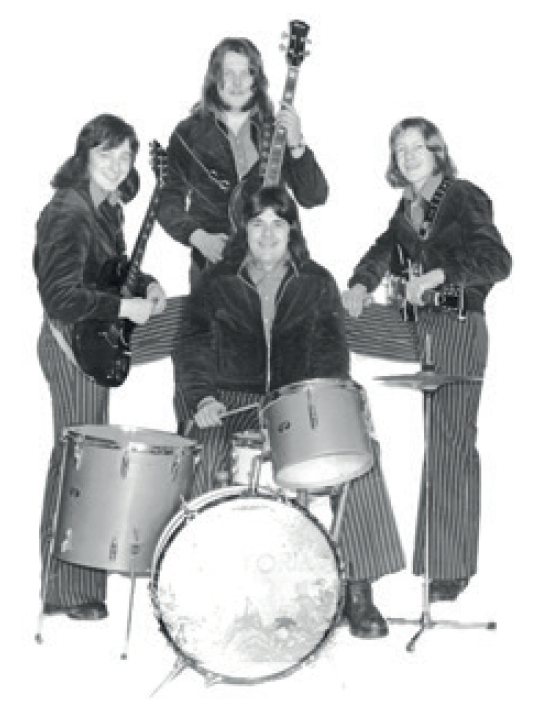 School friend Robert Gittins (a pianist) and I both shared a liking for contemporary pop and rock music so we got together and started by learning a few songs from The Monkees (a primetime American TV show about a zany group of West Coast pop musicians, which was all the rage at the time). We were soon joined by friend and drummer Alan Rowley. After leaving school and getting jobs, we almost drifted apart but Alan worked at a local hospital so in exchange for using their dining hall for practice, we put on shows for the staff and patients. Alan's younger brother, Graham, also a guitarist, joined us for the hospital gigs and I gave up playing six string guitar and begun playing electric bass. Whilst these monthly shows at the hospital were fine, we rather fancied spreading our wings – so I rang local music agent Eric Tarn, and asked his advice. He first of all asked what our name was and even though we didn't have one, he simply invited me to bring the band, or group as they were known in those days, along to audition the following week. We got the shock of all time when, just a couple of days later, Eric got back in touch saying, "Don't bother with the audition. Call yourselves Victoria and get over to Washington Celtic Club on Saturday. I've booked you to play there." Nerves and excitement in equal measure gripped the four of us. We persuaded another friend, Mick Cooper, to be our roadie, my brother Andy was asked to wear a suit and pretend to be our manager, we hired a van and off we went. It wasn't the best opening performance but we were on our way from that point onwards.
By the autumn of 1974, we had a "proper" manager and we were playing every weekend sometimes midweek, too. It was one of the best time of my life back then but things were becoming crazy. Four young men, replete with entourage, attitude and ego, travelling up and down and across the roads of North East England, having a whale of a time with no signs of slowing down, was not always a pretty sight.
We never caused trouble, but you wouldn't have been too keen on introducing us to your mum or girlfriend! Away from the band, I found myself unemployed and on the dole so applied to become a Christmas casual at the local delivery office and ended up being offered a full time position. Life on the road and getting up at 5am to start work soon became incomputable so I decided to leave Victoria – a decision that I regret to this day. Anyway, the other three goat a new bass player and went on their way without me. Sadly, Robert and Alan are now no longer with us and Graham lives near Worthing and still performs occasionally. By 1976 I had married and was divorced in 1982. This wasn't the happiest time of my life but now and then I'd join some local troubadour or two on stage in a non-professional capacity. I also formed one or two rock bands but none were ever as good as Victoria. When I met Janet, my new wife, my life changed again and I stopped performing all together when we became a family. Still working at Royal Mail and involved in trade unions I swapped music for a life in politics, becoming a country councillor and parliamentary panellist for the Communication Workers Union. I was settled, a husband with a loving wife and a father of two sons.
Eventually I returned to live performing
Around 2002, I was invited along to a local Folk Club and although I had never had much interest in folk music, I played a few songs and met some of the nicest people you could ever wish to meet around the folk club circuit. From there I traveled extensively as a solo performer and got to know performers and venue owners throughout the North East and North Yorkshire with the occasional forays into Lancashire and Cumbria. 
I took early retirement from Royal Mail and set up my own photography business. But more than that, I was back, performing my songs and truly happy.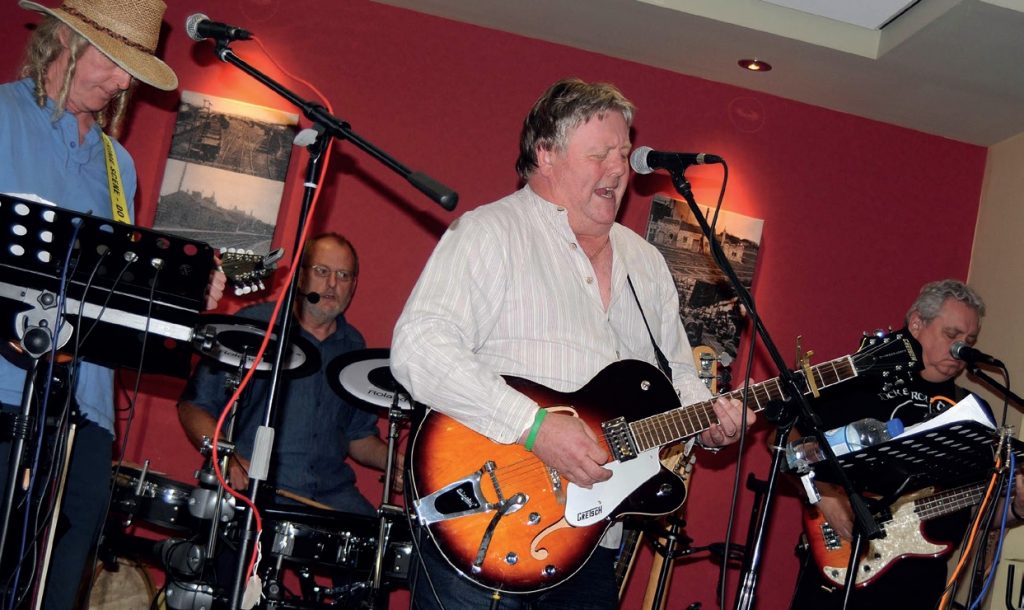 Day gig in Newton Aycliffe and I invited a guitarist friend of the time, Gary Grainger, to accompany me. Gary agreed as long as his friend, David Pratt could come along too. David, the finest percussionist I have ever played with, learned our songs just half an hour before the three of us became Tri and took to the road playing a mix of Irish stuff and our own songs. Gary left in 2010, citing problems and David and I brought in Ken Robinson and Steve Eliffe to form a new Folk, Rock, Blues band called Dead Cat Bounce which later morphed into today's outfit known as Man With The Stick. Steve left last year to go solo and our current line up includes David, Ken and myself along with newly joined guitarist, Geoff Pickering and fiddle player, Mags Forward.
And then I was struck down with GBS
My GBS journey began in October 2013 and I don't need to tell you just how bad that was but being a glass half full person and the thought that one day I might walk out of hospital, kept me focused. There were times, I must admit, when staying focused was a challenge. 
I had been told that GBS was recoverable but there could be some residual and long lasting debilitation of either hands or feet. As you would imagine, the guitarist in me hoped that my hands would be spared. No such luck. Today I use a wheelchair, crutches, walking sticks and a walking frame as required. I can move my legs freely although I can only walk unaided for a few yards. I can move my arms freely, too, but I have no feeling in the little ring fingers of both hands. Additionally, my right hand is somewhat "clawed" in     shape and the wrist extension is very weak.
So! End of musical career? Not on your life! I now just sing in Man With The Stick. With the aid of a perching stool I can get myself reasonably upright without falling over and with four excellent musicians around me the band is live once more. Do I miss playing guitar? You bet I do. But I am I confident that one day I shall be able to do so once again. Right now, I am happy to be able to continue performing. my voice is strong and the joke is that I am now the "man with two sticks".
Phil Graham
Man With The Stick