How a fast-paced contact sport helped a mother of two find her feet and regain her confidence
I've always been an active person. My entire life was based around dance or sport. Swimming was a huge part of my life also. I was a lifeguard and gym instructor for 7 years.
When I was 21, I took up Pole and Circus skills with Pole Performers Dance School. I absolutely loved it and got a job as a dancer at a Rock Night Club.
29th November 2014 was the last night I was normal. After I was diagnosed with GBS I was told I had to give up my dance career. I was distraught and fell into a deep depressed state.
I am a mother of two beautiful and active toddler boys; I wasn't going to let them see their mammy suffer this way.
Focusing on getting better became an obsession and made me ill though. I did relapse once unfortunately by pushing myself too much too quickly. At the doctor's orders, I slowed down and took each day. I slowly started to gain my strength back. I was thrilled. The simple things like being able to pick up my sons for a cuddle was the best feeling ever!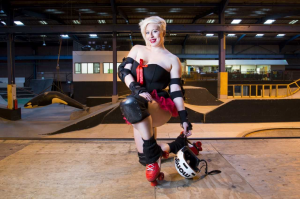 Roller Derby is a contact sport played by two teams of five members roller skating in the same direction around a track and it's awesome!!! When I came across Roller Girls Canny Belters (A-Team) and the Whippin' Hinnies (B-Team). These ladies are bad-ass strong and have given me something I never thought I'd get back; my independence.
Siobhan Hatch (aka Miss Lucy Lasalle)