My name is Karrie and I'm a 22 year old Mental Health Nursing student and in November 2013 I started to develop symptoms of GBS. I was admitted to hospital and became paralysed from the chest downwards. I had to have an NG tube fitted and also a pacemaker to control my heart rate.
Eventually I began to improve with amazing support from my family and the hospital staff. I received intensive physiotherapy and was encouraged to write a list of short and long-term goals. My early targets were: getting into a wheelchair and going home for a few hours on Christmas Day. Whilst my long-term goals were: getting back to ice skating; running a 10km race and getting back to my degree.
Before GBS I was a very fit and active person; I loved running and I particularly enjoyed figure skating, so I was so determined to get back to these activities. I was discharged in January 2014 and I spent the next few months doing daily exercises to slowly build up my strength.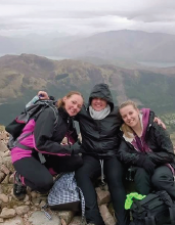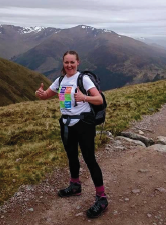 In July 2014 I finally had the pacemaker I was fitted with removed and this made me feel like my ordeal with GBS was finally over. I do still get some residual nerve pain but for the most part I am fully recovered. I decided at this point to do a year long series of sporting events to raise money for GAIN and also the MS society. GAIN provided my family and me with a lot of support whilst I was in hospital so I really wanted to help fund them to continue helping others. Also, I wanted to see how far I could push my body to prove to myself that GBS won't ever prevent me from attempting anything in my life.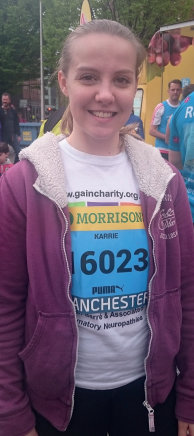 So far I've done: the Preston 10km run; a Boxing Day 10km run (which was very cold!); the Great Manchester Run; I've walked up Ben Nevis and I'm now training for the Great North Run in September. Walking up Ben Nevis was a really difficult challenge but I was so lucky that my Mum, Auntie and boyfriend all joined me for that climb. I think the Great North Run (which is a half marathon) is really going to test my fitness but I'm really anticipating the challenge. I've raised over £400 so far and have a target of £600. I really want to give people newly diagnosed with this terrible disease some hope that things can get better with time, patience and of course heaps of support.
Finally, I've been giving talks at my university to trainee nurses on how it feels to be a patient in an acute hospital. My aim is to increase awareness of GBS and also to explain to these students how it feels to be so dependent on others. I'm hoping that that I can inspire them to become caring and compassionate nurses in the future because I know that the amazing nursing care I received contributed so much to my recovery.
Karrie Houghton
Left to right: Mum, my boyfriend and my Aunt