Back in 1990, Helen Young's sister died within two weeks from a syndrome she'd never heard of, Guillain-Barre syndrome. She was only 18, Helen was 21. Helen decided to raise funds to help other people affected by this devastating illness.
In 1992 I ran the London Marathon to raise funds for GAIN and if I'm honest it was to do something positive after such a tragedy.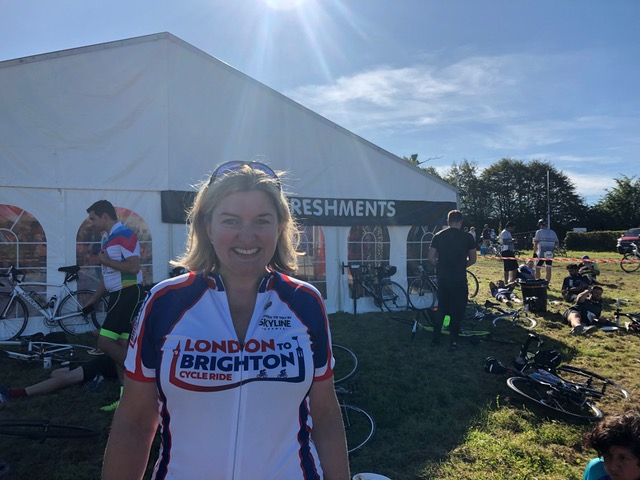 Despite Guillain-Barre syndrome only affecting 1300 people in the UK each year, I know three other people who have had it, one of whom is still recovering as I write and is receiving support from a local GAIN Peer Support Volunteer. Coupled with the fact I reached a birthday milestone this year it seemed timely that I should do something else to raise awareness and funds. I opted for September London to Brighton Bike Ride, 56 miles.
I'm not sporting by an stretch of the imagination, so this was no mean challenge. I was more used to pooling around my local area on my bike, 3 miles max!
I booked my place back in January and then promptly partially damaged my achilles and another tendon trying to get fit for my birthday!! The recovery was slow and I only got back on my bike mid-July (the organisers suggest a three month training programme). I started training earnestly with one month to go in August and thanks to mad biking friends who think cycling 50 miles is a mere jaunt, managed to cycle up Box Hill on three separate occasions prior to the ride (part of the London 2012 Olympic route, although Olympiads cycle up to 9 times in one day!!).
I set off to the ride with mixed feelings – nervousness definitely, as I had no idea what to expect and everyone had warned me about the worst hill of all, Ditchling Beacon, which rises out of the landscape like Mount Doom in Mordor. It rises from 90 metres above sea level to the summit at 248 metres in just over one mile. That's an average 9% incline with it hitting 16% at one point!!!
I was cycling on my own, so my methodology was slow and steady, no heroics, I just wanted to do it.
In fact, I only stopped for the water break after 17 miles and lunch stop at 30 miles. Everyone taking part was very friendly and supportive.
One man joked he was naming me "relentless" as I just kept going at the same speed, (he kept overtaking me and then stopping and I would overtake him ad infinitum).
I have to say i thoroughly enjoyed the day – the weather was perfect, dry and sunny. I started at 7am and finished five and a quarter hours later. I cycled every hill even Ditchling Beacon, although that was painful! At the top i had wobbly legs but that was soon fixed with water and jelly babies – a must on a long bike ride.
The scenery at 248 metres up was awesome and the descent down to Brighton was a delight. The feeling of accomplishment was immense.
I crossed the finish line at Brighton Marina with great joy. It was an epic day and one I will never forget. Friends couldn't believe an un-sporty person was doing this and so were very generous at sponsoring me. I'm delighted to say they have helped me raise just over £2000 for GAIN which is my proudest achievement of all. If I can do it at fifty then anyone can do it!!