Linda Barnard tells us of her determination to beat GBS and get back to being a mum
A bit about me – in early 2019, I was about to reach my 51st birthday. As a single working mum of three, I had a busy life, two jobs, six cats, large garden, and I also loved to go out socialising.
I was active, and in good general health. In March 2019, my worst nightmare came true. As every single parent will tell you, our most dreaded situation would be to become too ill to look after our children. That exact thing happened to me.
I was having a stressful time, my bathroom was being re-fitted, and not really going to plan. I'd had a headache for two weeks. On Monday 11th March, I developed sudden numbness in my hands. I couldn't feel the temperature of the bath water that I was running for my 9-year-old son. I just thought it would wear off. Unfortunately, it didn't. The next morning, my hands, feet and tongue were tingling. I went to work (my main job is pharmacy assistant, within a GP surgery).
Although I went to work, I didn't feel "right". I asked for my bloody pressure to be checked. It was slightly raised, and my pulse was fast. I was told that it indicated I may be coming out with a virus of some sort.
The next morning, (Wednesday 13th March, my birthday) as soon as I got up, I knew the numbness and tingling had spread. It went up my arms, and into my legs.
I nearly passed out, I managed to call my 16-year-old daughter, Amber. She called the NHS 111 helpline.
After ruling out a possible stroke, they asked me to go to A&E as soon as possible. I got lift there, I couldn't drive. They ran some tests, including bloods. My protein levels were raised, which they wanted me to have checked in two weeks' time. Apart from that, they concluded that I was suffering from stress and anxiety. Part of me didn't feel that it was a correct diagnosis. I felt so "wrong" in myself. I didn't have much of a birthday treat!
The following day, I was worse. I couldn't eat, I felt so ill, I still had the numbness, in fact it was hard to walk. I went to see my GP, a friend drove me there, and my son Freddy had to support me walking into the surgery. My vision was blurring at times. My GP checked my reflexes – at this time they still worked. Again, I was diagnosed with stress/ anxiety. I remarked that I wasn't walking too well, and promptly bumped into the wall as I left the GP's room, while she watched me. I was physically sick on the way home.
Friday 15th March. I felt awful. I nearly fainted again, and I could hardly stand up. I tried to get the duty doctor to visit me, I was told no, my only option was to get to the surgery. I promptly collapsed whilst trying to climb the stairs to get to my bathroom, I needed the toilet. After being helped upstairs, I went to the toilet, but couldn't feel myself "going". We called 111 again. They called an ambulance and it came within a few minutes.
I was rushed to West Suffolk Hospital, Bury St Edmunds. I cannot remember anything of being in A&E, or AAU. Thankfully, I have now found out that an "on the ball" A&E doctor was pretty sure I had Guillain-Barre syndrome. I was started on the IVIG treatment straight away, before having CT and MRI scans, then actual diagnosis by lumbar puncture was confirmed.
I was moved to the respiratory ward, where the Intensive Care team introduced themselves to me. They were monitoring my breathing carefully. They warned me that GBS may affect my breathing ability, as my muscle weakness progressed. They were right, on Tuesday 19th March I was admitted to ICU, and put onto a ventilator, as I could no longer breathe by myself. I was "plugged" into various machines, tube fed, and monitored very closely for 10 days.
By now, I was totally paralysed. I couldn't even shut my eyes properly, I had double vision. I couldn't move anything from my face to my toes. I learnt to use the alphabet communication board, with someone holding the board, and my hand so I could vaguely point to each letter as I spelt out words. This in itself, was an exhausting task.
It was then time for me to try breathing unaided, so the ventilator was removed. Unfortunately, during this process, it got stuck in my throat, that was very scary. Yet again, I was unable to breathe. It was so traumatic, I don't like thinking about it.
After managing to remove it, and stabilizing me, I was moved down to a ward. After 3 days, I was back in ICU, back on a ventilator. I was taken off it too soon, I had asphyxiated, and developed double pneumonia. I was also now carrying the MRSA virus. It was touch and go for a while, I faced death yet again. I was given another 5 day course of the IVIG.
During my ICU stay, my daughters visited almost daily. My eldest daughter Kyra was studying at Lincoln Uni at the time of my diagnosis, and had to sit exams before she could rush back to Suffolk to see me. She didn't recognise me at first, when she was brought over to me, she broke down sobbing. I'll never forget that heart breaking sight.
Eventually, I improved, my pneumonia eased, and the ventilator was removed successfully. The MRSA cleared, and at last my son Freddy was able to visit me. This was a very emotional first visit, three weeks after my admission to hospital.
He helped me to keep cool by putting wet tissues on my face, as my daughters had been doing too. I could only move my hands and head very slightly. I managed to croak a few words out now and again. I continued to use the alphabet communication board.
I was moved down to the Respiratory ward. I remember feeling really scared, I felt I might end up not being able to breathe by myself yet again. I had weekday visits from the physios, mainly to help me to cough productively, and sometimes to help me to move my limbs. I was still being fed with the nasal tube.
The S.A.L.T. team (Speech and Language Therapy) visited weekdays too, to help me to get my muscles moving so that I could try to talk, swallow, drink. This was incredibly slow process. I hated the nasal tube, it fell out a few times, and eventually I refused to have it. the gagging and choking I went through each time it was re-inserted just got too much for me to cope with.
I was given vital nutrition briefly via a pick line, then I had a PEG fitted via my stomach. I needed a good amount of calories to build myself up again, I had lost over two stone in weight and I had only been nine stone before I became ill!
One day, I was turned too roughly, a muscle tore, and blood was pouring out by my PEG tube for a few hours.
I had approximately thirty minutes of physio most weekdays. I was given exercises that my children would help me with at the weekends. The physio team were great, but resources were so stretched. I knew by now, that my only chance of muscle recovery was if I had more physio. When I was told that funding to send me to Rehab had been applied for from the CCG, I was over the moon! My children were too; they needed their mum back so much.
I was often tearful, and missed my children terribly. I was stuck in bed, for hours, days, weeks. I felt like a caged animal; I love the outdoors, and fresh air.
I was occasionally hoisted out, into a special physio chair, then into a wheelchair when I was stronger. For the first two months this was incredibly painful, but at least I could be wheeled outside by my children and friends. WE could go to the adjacent park, and I had my first experiences of the big outside world again!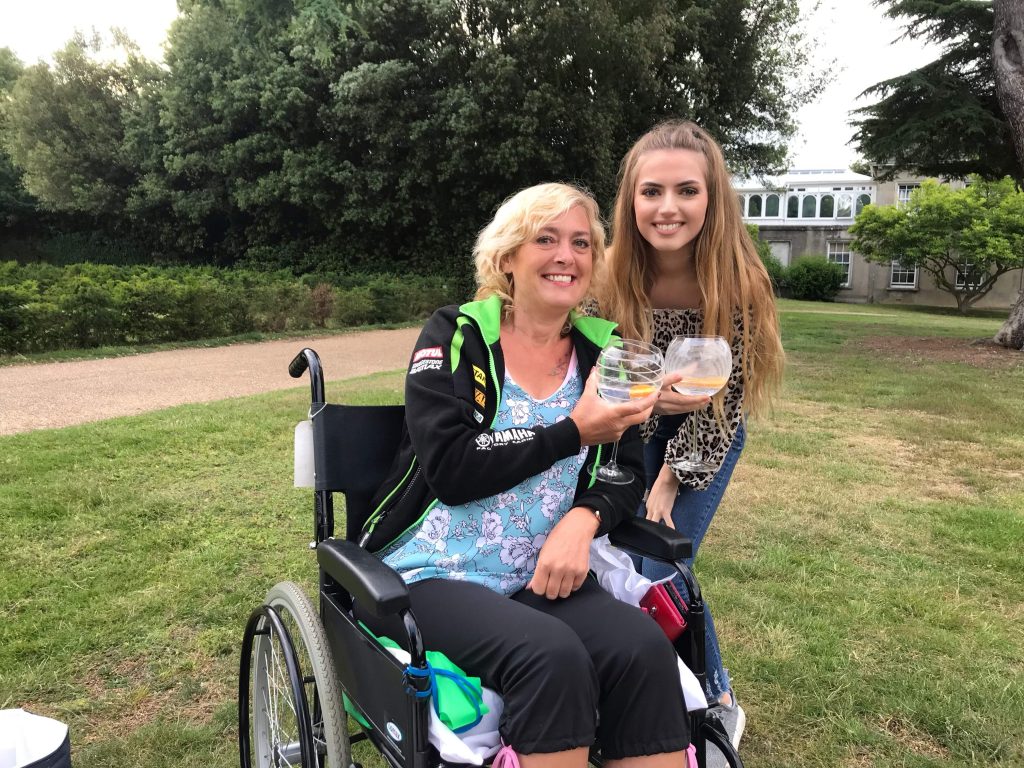 My daughters washed my hair for me while I was in hospital, in the bed. We did have a good giggle about how soaked we all got!
Finally, I had a visit from Karen and Pippa from Sue Ryder, The Chantry, Ipswich. They assessed me for going there for intensive rehab. I was so excited, that this may really be happening! After another couple of weeks I was told I was accepted, the funding was going through, and a bed should be free soon. I would ask the nursing staff at hospital every day, for a month if they had heard. One day, the physio told me she had received confirmation, I would be going there soon. I was so relieved!
At this stage I was just about managing, with the help of three staff, to sit and slide from the bed to a wheelchair on a "banana board", as it was called. I arrived at The Chantry on June 3rd 2019, eleven weeks after being admitted to hospital. During this time, Amber had sat her GCSEs at school, without any parental support at home.
As soon as I was taken into The Chantry, in the wheelchair, I was so happy. The building and location were beautiful. For the first time in eleven weeks, I really did feel alive!
I met the rehab staff, nurses, physios and occupational health therapists over the first few days. My own room was gorgeous, I had furnishings, large windows, and better still – my own bathroom. I had only been given two showers in my eleven week stay at hospital, due to lack of staffing mainly. Very quickly I progressed from the banana board to the "Sara Steady". Things were definitely "on the up".
The staff were all fantastic – they soon realised that I was strong of mind, and determined. They would praise and encourage me at every opportunity. I had insisted I would only be at rehab for eight weeks, not the usual twelve. I needed to get home for the long school summer holidays.
The whole team at Sue Ryder, Chantry, were right behind me. The physios were "on my page". We would set goals for me to achieve. I worked both ways – they would would suggest the next thing for me to try, and I would also say what I wanted to be able to do by the end of each week. I also managed to persuade them to let me use the rehab exercise bike an extra third session each evening. This helped me to gain strength, so much more.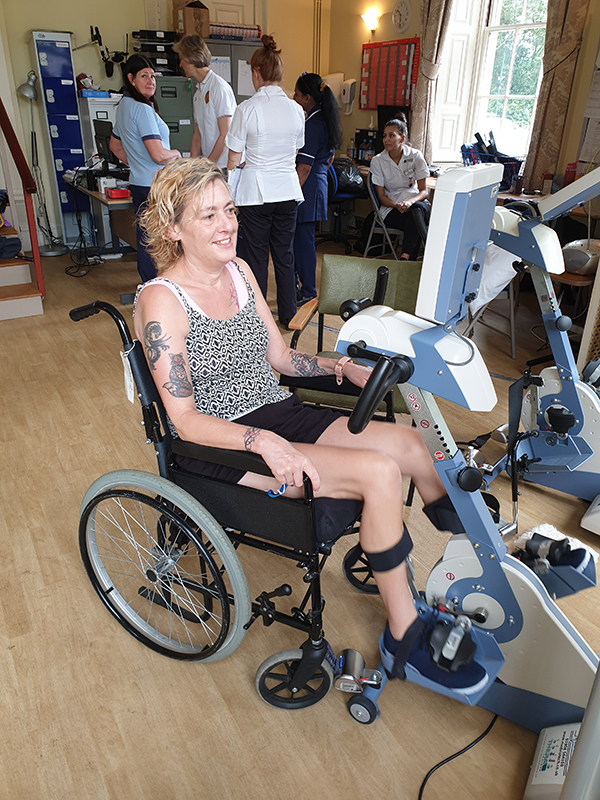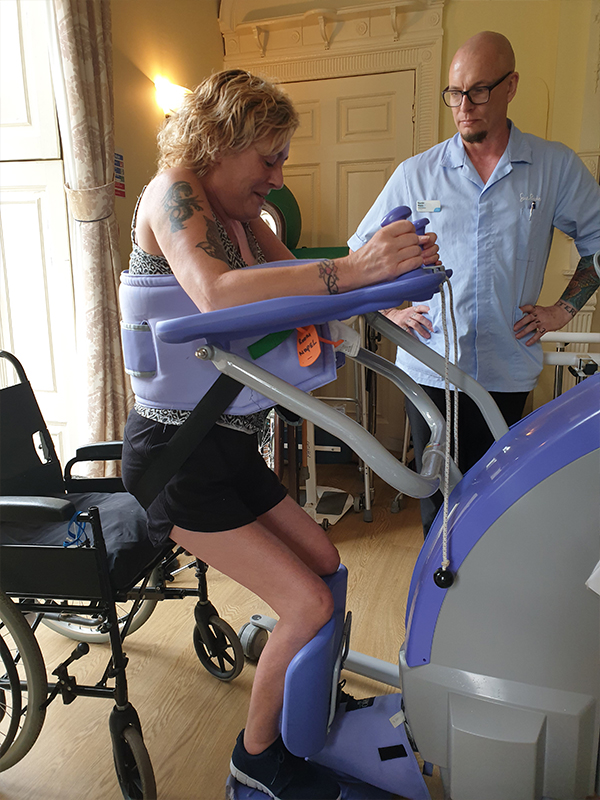 I had a wish of being able to walk and lay on the grass outside. The physio and rehab staff saw to it that my wish came true. One day as I walked barefoot on the grass with assistance and frame just in front of The Chantry, the staff inside caught sight of me, and all stood at the windows cheering me on! What a fantastic feeling that gave me!
I loved to spend my rest time in the private garden. I would always "nag" the staff to keep the bird bath filled up and water the plants! We had a great relationship , they got me to help with holding the hose pipe, we had so much fun. I needed to heat mentally as well as physically, this kind of activity did that with ease.
My children and friends were able to visit whenever they could. They frequently wheeled me round the park. It was good for my children to be able to do this. They would bring snacks to eat in the park, it was lovely.
I had sessions with the occupational health staff in the kitchen, I progressed from making a drink, to cooking a meal.
I had chats with the psychotherapist, she was very supportive.
I really wanted to see Amber go to her school prom. Thanks to occupational health staff, rehab staff, and the physios, this was made possible. I was driven to my home; we took the necessary equipment I would need (commode, pivot stand, wheelchair ramps). It was fantastic to get home and watch Amber. She looked breathtakingly beautiful. Then I was treated to a pizza tea, by Kyra, my eldest daughter. Kyra helped me with everything, including pushing me a long way in the wheelchair over the rough ground to get to see Amber go into her prom venue.
It was obvious that my children were happier to see me at The Chantry. They were always amazed at my progress; I would delight in showing off to them! One day, my son was due to visit, so the rehab staff kept him waiting for me at the end of the long hallway. I made my way, walking slowly with a frame, and staff beside me. It was an emotional few minute – the rehab staff shed tears too!
I visited my home a couple of times, with rehab staff and occupational health, to assess the equipment I would need, and ensure that it was ready for my final homecoming.
My ultimate goal was to walk out of rehab on my own two feet, using only a stick to help. I had arrived in a wheelchair, and I wasn't even able to stand.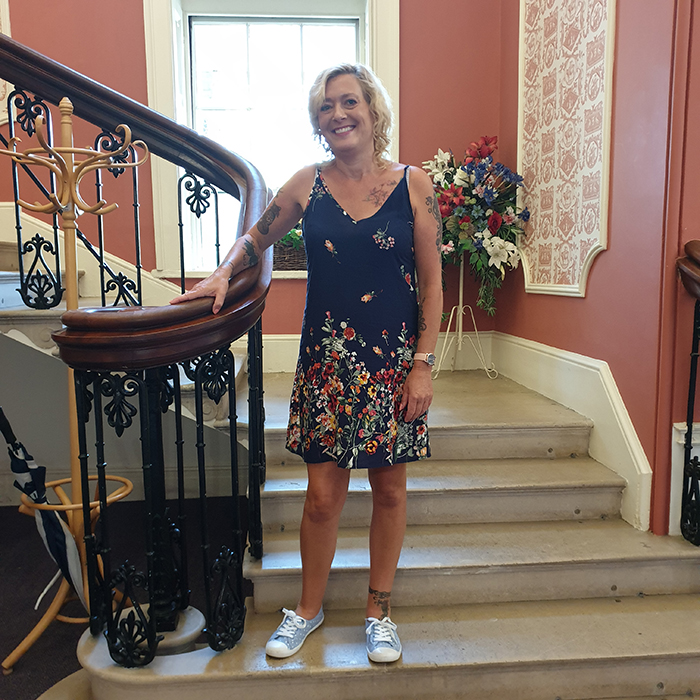 Thanks to the Sue Ryder team, I achieved that goal. I walked out with a stick, on July 29th 2019, and went home.
So that is my GBS story. It has been a hard, emotional and physical journey. In fact, it feels like I've been "to hell and back", so that's what I'm calling it.