After my daughter Amy was born with CIDP, four years ago, I always knew I wanted to do something for GAIN to give something back for all the help they gave us through the hard times.
Having not ridden a bike for years I thought the perfect challenge would be a 234 mile bike ride from London to Paris!
Day 1 – 85 miles: London-Portsmouth
After nervously setting off from York house at 8:00am it all started out as a nice flat ride but everything chnaged after lunch, we were then riding hill after hill with the steepest gradient being 21%. Thereafter, the ride into Portsmouth was generally flat and we were bale to shower before rolling down to the docks to take an overnight ferry across to Caen.
Day 2 – 87.5 miles: Caen-Evreux
 We only had four and a half hours sleep on the ferry; it was safe to say it was going to be a very long day ahead. Starting at 6:45 am as the sun rose, there was a very cold chill in the air and wearing short sleeves was not a good choice. However, Day 2 was a little easier than the first apart from two very long climbs at around the 20 mile mark, and very long they were too! After this it was a very pleasant ride through the French countryside and little villages until we reached our hotel for the night.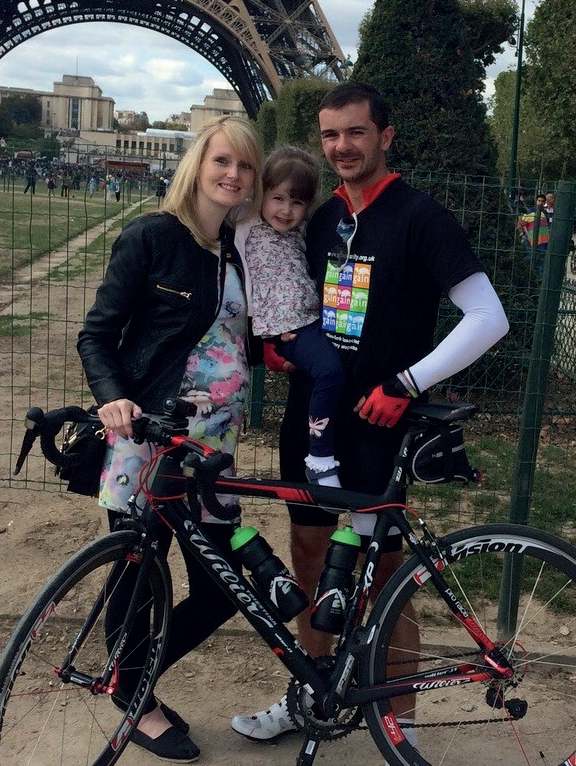 Day 3 – 68.8 miles: Evreux-Paris
WOW what a day!
The whole route was generally flat again on cycle paths through the countryside with the odd historic village; we stopped for lunch approximately 20 miles from Paris then carried on riding until near the Champ-Elysees where we regrouped for our final stretch to the finish line at the Eiffel Tower.
The final stretch was one of the most amazing experiences I have ever had to date, there are honestly no words that could ever explain how it felt, adrenalin had taken over; there could have been the biggest hill to climb and it would have felt like a lump in the road.
I was riding with people I had never met in my life, from all over the world, but after being with them for 72 hours it felt like I had known them a lifetime, all of them had heard our story and couldn't wait to meet Amy. Emotions got the better of me when it came to the finish where my wife Sam, Amy and my parents were there waiting for me. Having a picture with Amy under the Eiffel Tower ripped me to pieces – after all, if it wasn't for her I would never have been doing this challenge and if it wasn't for team Phenomenex and the other guys on the ride, it wouldn't have been the enjoyable ride it turned out to be!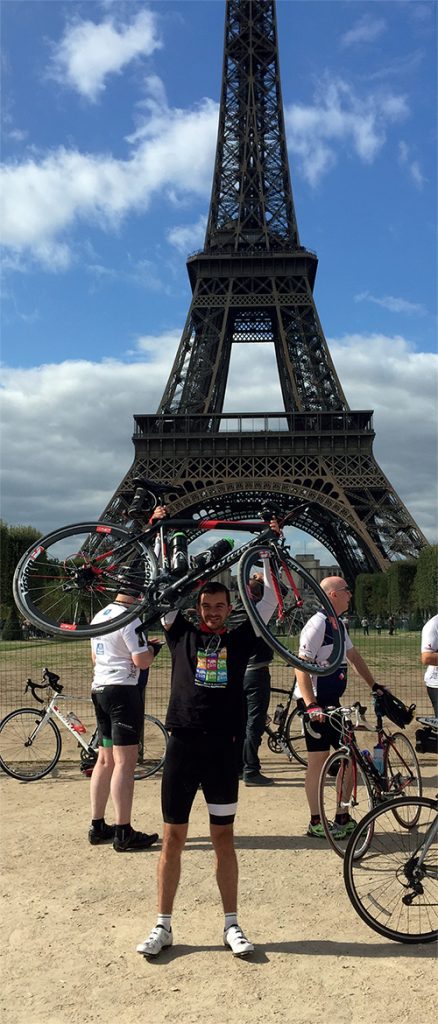 So this was a little thank you from our whole family to you at GAIN for all of the support you gave us during our tough time and now the question is what to do next…
Darren Parr