Over a 16 month in period 2012-2013 as a family we walked (or were carried) the length of the Capital Ring Walk which is a route around London covering 78 miles which passes near our home. We knew we wanted to do something which all of the family could be involved in, including our children, Lucy who was 2 years old and Ben, who was four and has walking problems (a residual from GBS).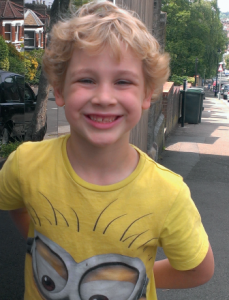 We did this because our son Ben suffered from Guillain-Barre syndrome when he was 2 years old, affecting his lower limbs. Although he recovered, he was left with damage to the nerves that control his calf and foot muscles.
Ben is now 7 and currently in school year 2. He has had a few operations in the past few years as well as a Botox injection as of course regular physiotherapy. He has been making great progress and his mobility issues don't hold him back at all and are only really noticeable when running or playing football. He has an amazing capacity for reading and learning and will tell you everything about his latest favourite subject if given a chance. Like every 7 year old boy he loves Minecraft, which is a computer game a bit like Lego if you are lucky enough to not know it already. He also enjoys swimming and Tae Kwon Do, which allows him to concentrate and work hard in order to pass his gradings and achieve his colour belts. Ben is also one of the children featured in GAIN a Million logo.
This year I wanted to do something again to help raise money for GAIN a Million appeal. Not being very original I have ended up walking the Capital Ring again, only this time with friends instead of the family. Now with much bigger, heavier and busier children we knew that it would need to be without them this time. One other difference is that instead of completing the walk over many weekend over 16 months, I decided that we were going to complete the 78 miles over 3 days.
Intoxicated by a few beers and inspired by my companion having already completed 100km challenge walk the plan was set. My friends Nick and Matt would accompany me every step of the way and many others would join us for a day or so.
Along the way I started to hear dark mutterings about blisters and began to hear the word "compeed" but I was still blissfully ignorant of the realities of such a long walk.
Nick, Al and Matt with their reward
DAY 1
We set off from Highgate just about on time full of good spirits. We finally stopped walking 12 hours later, 32 miles further along the route in South East London. On the way we enjoyed passing the Olympic Stadium and park, crossing the Woolwich foot tunnel under the Thames. By the evening the expected rain came, fortunately we were fairly protected being in Oxleas Woods, but the last few miles were a real challenge and every sign we saw seemed to tell us that we were still 2 miles from the end. Eventually we stumbled through the twilight, just about able to make out ponies along the path and finally emerged at the train station.
We were somewhat disappointed to find we reached our target point an hour and a half later than planned and that somehow we had travelled 4 miles over the expected distance. This was going to be longer than anticipated.
DAY 2
After a bath and some sleep we reconvened at 10am the next day, compared blisters and were off again. Although some new friends joined us for the day, we found it hard to keep up with their fresh legs and decided that to be able to complete the weekend we would need to cut out some of the (ever increasing) distance. So we gave our tired legs a break and finished 17 miles for the day, having reached Earlsfield 10 miles from our intended destination but knowing this would give us a chance to complete the final day as planned.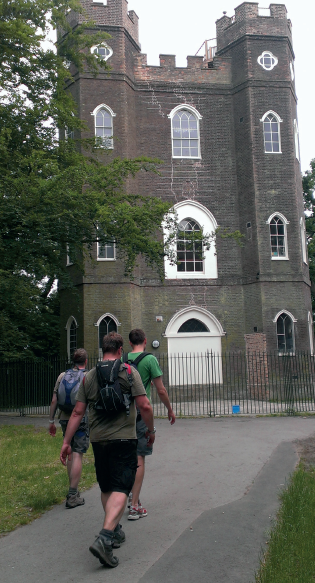 DAY 3
The final day got underway at Osterley Lock, following the Grand Union canal as we head out of London, passing through some surprisingly large and wild parks and meadows, through Harrow, Hendon, Hampstead and Highgate (as well as some places that don't start with H). By now, we felt the distance travelled with every step and I must have looked a little out of place as we walked past the junction of the North Circular Road and the A1, complete with walking poles and knee supports. Finally we made it to Highgate Woods, where we were met by my friends and family including Ben and were able to walk the last few yards to the pub for a well-deserved beer and fish and chips.
Along the way we've passed through 20 London boroughs, crossed over and under the Thames, the A40, A1, North Circular, South Circular, and all our favourite motorways. We've seen beautiful sights, also many abandoned shopping trolleys, and so we've done it! The walk raised £1700 with hopefully some more to come and not forgetting and we need to go back in a week to complete the walk!
Alistair Ward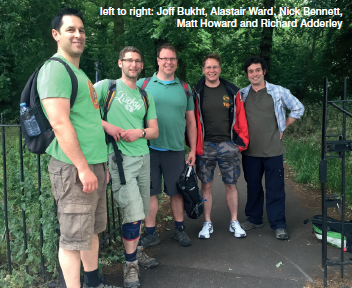 Left to right: Joff Bukht, Alistair Ward, Nick Bennett, Matt Howard and Richard Adderley