On March 6th 2015 our mother, Yvonne Smith was admitted to hospital with a very rare condition called Guillain- Barre syndrome. Within a few days it had moved to her lungs, she was unable to breathe on her own and was moved to ICU (intensive care) where she was intubated and put on a ventilator. It was a very scary time for us all.
A few days later we thought she was starting to make progress but had a massive relapse, she aspirated whilst eating and food went her lungs ending up with Sepsis. She was so poorly, we nearly lost her and there were a few nights of not much sleep and very little hope.
This was all just before Easter weekend, but on Good Friday they felt that her infection had peaked and she was showing signs of fighting it off, we finally had a little bit of hope. Over the next two weeks in ICU she made the most amazing progress and continued to make huge steps forward with her physios and after a few shaky starts she took her first steps.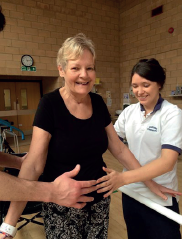 She finally left hospital and was moved to a residential rehabilitation unit where she moved onto walking with just a stick and then walking on her own. Over 3 months since she first went into hospital she finally came home for good. There will still be a long road to fully recovery but at least she is with Dad at home.
Mum has been a total inspiration to us and we could not be prouder of how she has overcome this awful illness.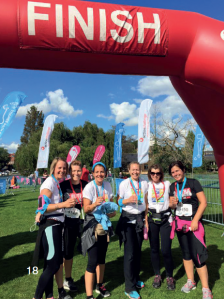 Claire and her sister Emma want to raise money for GAIN not only to raise awareness of the condition but also, they hope that more research will mean quicker diagnoses and treatment. Along with six friends, they completed the Thames Path Challenge, a 25 km walk on Saturday 10 September and so far have raised over £3000.